Tripawds is a user-supported community. Thank you for your support!
Just a quick update on Maggie as my sister, Gina, came to see her yesterday.  I think
it's been over a month since she saw her.  She said she was better than what she
thought she would be in the "mental" department and "with it".  Physically, she is
weaker but if she didn't know she had CRF, she would just figure it was typical
old dog stuff.
Maggie had a "big" afternoon(for her!).  She hung outside with us, was amongst us
trying to get treats from me, while we were playing on the Wag It Games obstacles
with the other two dogs.  I was in shock!  She really hasn't done that in eons – usually
she just lays by the side and just watches us now.  Then, we did a little Sniff It session
with food search in the tents.  Maggie used to be, as her blog name says, AGILE. Well,
not so much anymore…she wrecked the course!  She didn't hop in and out of the tents
with ease as she used to..  It was funny (but not really) but she had fun just the same!
Gimme' food she says! 🙂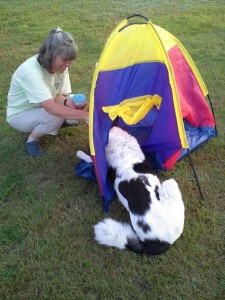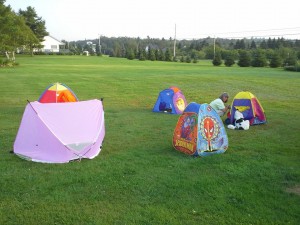 "Then, the highlight of the afternoon!  A black dog came into MY yard and I finally
witnessed it!  Mom tells me it's happened two other times but I've been holed up in the
garage and my hearing isn't too good, so I've missed all the action!  But not this time!
Good thing Aunt Gina grabbed me by my waist 'cause I was gonna "get em'!  Yep!
I STILL got it in me to raise holy ole' terror when a strange dog enters MY yard!"
Then later, I had Gina do Maggie's fluids – she's so good and fast with those needles!
Maggie, once again, never cringed or knew Gina put the needle into her!  Unfortunately,
I'm not that good and Maggie kinda ducks her head every time I poke her 🙁  Gina
said don't make a 'deal' of it – as in I set Maggie up in a certain spot each time etc.
Maggie didn't even realize what Gina was doing…  but maybe she would eventually, if
she did it more?  So Maggie will just have to keep putting up with me!
It was nice to see Maggie engaging in the afternoon with us!!  The "old Maggie"
reappeared for a while!  She seems no worse for wear this morning….so that's a good
thing! 🙂
'Til next time, Maggie keeps hoppin'(and sometimes floppin')
Tracy & Maggie