Ok, so I'm feeling sorry for myself this weekend…so here's my sob story…
What's up with me being one minute my usual agile self to then not being so agile!!!  This 3 legged stuff is HARD!!!!!
Friday night, my Mom decides it's time for a bath!  Why?!  I'm still white looking aren't I?  I haven't had a bath since the day I got busted out of the hospital back in October.  I used to have regular baths but Mama had been putting if off…you can guess why…yup, the fact I now have 3 legs.  Baths were easy before, she'd put the bath matt down in the tub, she'd tell me "time for a bath", I'd jump in the tub on my own and then she'd tie me so she could wash me up and me hold still.  Well, Mama asked Papa to at least help her get me in the tub…I went to the tub edge and I was scared…I was really going to try to jump in!  Mama said wait a minute, Mags…we'll help ya.  So Papa lifted me up and into the tub.  All was well UNTIL I moved my rear leg off the matt and I got scared and freaked out…Papa grabbed me and held me reassuring me that I'd be OK.  So for the rest of the bath, Papa hung on to me while Mama scrubbed and rinsed.  Then out of the tub by the help of my Papa again…  So a not so 'agile' moment….I used to jump in and out of the tub on my own!!!  Here's a picture of me after my bath…I don't dry too fast and it's tough to get my coat dry(even with a blow dryer!) so I got wrapped up in a blanket…I was toasty warm after that!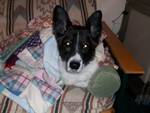 Yesterday, me, Mama and little sister Haley, went down to our local town hall where my Mom and Haley practice Rally-obedience.  I haven't been down there since my amputation.  My Mom has been hesitant to take me as it has tile floor…but she took me and put on one of those stupid balloon type rubber booties on my rear foot so I wouldn't slip.  Well, that worked fine for standing and moving…but no way did it help me be able to sit and lie down on the stupid floor!  So Mom and I stuck to just practicing heeling – which I might add that I RULE over little sister in that department!  Mom says that I am a better heeling dog than that little rugrat sister of mine!! He-he!  And she's been doing it longer than me!!! 🙂  But then after a while, I was getting tired and loosing my spring in my step…so in pops in that stupid "not so agile" feeling again 🙁
So, today, my Mom took rugrat sister over on our snowsled trail for a walk but I couldn't go today as the trail was just too loose/punchy and Mom didn't want me to overwork myself and get sore.  That SUCKED but Papa took me for a R-I-D-E!!!  And I got to go deer hunting!  Yay!  That's the best!  You know, Opie, you might do this in Alaska too, we call it 'heater hunting'….ride around in the vehicle and watch for wildlife from the vehicle..it's not really hunting season…but it is in my doggie world 🙂  I get to stalk deer from inside my warm Jeep and then when they run I bark and carry on!  I love it!  It's great fun!
So after I got back from my ride with Papa, Mama was feeling sorry for me, so took me down on a quiet road to walk me on.  I was hippity-hopping along, feeling quite "agile" once again…and then WHAMO! the ground gives way and I'm literally stuck up to my belly in a hole!  My rear leg fell through the snow on the side of the road cause the stupid plow truck driver winged the banks back too far and into the deep ditch I went!  If it hadn't been such a sad sight and I had four legs it MIGHT be funny…but it was NOT funny and I was darn glad my Mom was there to pull me out!!!!  Thank gawd for that Ruffwear harness handle for her to help me better!  So, that didn't phase me too bad, I turned around and looked at the stupid hole, like frig you!  I'll show you, I'll be "agile" again in a few minutes!
So off I go, my Mom has me on leash cause we're on the side of the road…well, when she has to have me on leash I think it's pretty darn funny to really hippity-hop fast and make her jog behind me 🙂  She jogs cause she doesn't want the leash pulling on me and pulling me off balance…  We don't go too far…cause she doesn't want me to get tired – well,  I think the REAL reason is I'm tiring HER out!  He-he!  Come on Mama…you can jog, can't you?! 
On the way back, I get another great "agile" moment….I smell something…hmmm…a deer possibly?  And I hippity-hop right on up to the top of a huge snowbank with my Mama saying "hey, where are you going?!"….  Come on, Mom…there's a goooood smell over here…I can scale this mountain of snow…no problem!
Well, she convinces me to come back down and I hippity-hop(and she jogs) back to the car.  Darn….short walk…  But my Mama is trying really hard to give me exercise but not too much to get sore.  Do any of you other 3 leggers get sore/tired?  I hate not being able to be as "agile" on 3 legs at times…but at least there are moments of being 'agile' on 3 too! 
And one more thing that's not so 'agile'….just how do all you other 3 leggers in cold climates, hold up a paw when it's cold??!?  Used to be easy when I had 4 legs…but 3?!?!  Holy crap!  That's a test of 'agileness' I have yet to pass!
Maggie