Sharing
Alone but together,
we walked this trail,
To you there was nothing
I could not tell
Walking in silence
engulfed in nature's song
We shared so much
as we went along.
Kindred spirits,
friends for all time….
You and I,
we're two of a kind.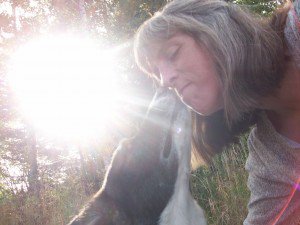 Today, I put my girl down to rest her weary body…
This has been a huge struggle to decide to come to this day…
I had thought I would wait until she didn't want to eat…
But really, when I thought about that, why would I want her to be so
sick that she could no longer enjoy what she had left – food…
Her mobility was very limited(due to anemia from CRF)
She was getting more fluids but now absorbing them faster –
the fluids were diluting her blood but she needed them to live
her breathing was heavy at times – especially after fluids…
I had thoughts of maybe she could hang on until her 14th birthday in January…
or her 4th year Ampuversary in October….
foolish thoughts…selfish thoughts…
what did that matter?…
Maggie deserved to go out with what remaining dignity she had…
I owed her that…
Last night, Gina had a conversation with a psychic (and animal communicator). I was surprised
Gina "spoke" to her as she's not a true believer of that kind of 'stuff'. The psychic asked Gina if she
had kids. "No, said Gina, only furry one's"…then the psychic said she felt really weak and tired…
asked Gina if she had a big dog, like a Bernese Mtn. Dog…black and white dog…Gina said, "no, but my sister does"..
"I am putting her down tomorrow". The psychic then said "GOOD!"…then apologized for it coming out like that..
She said "tell your sister, it's time, the dog is ready…she is very weak and tired, she doesn't care where, just that she's ready"
I've had my second thoughts about putting Maggie down…she'd have a good day and I'd think I made the wrong decision..
but this was a true sign that it was the right decision..
When I told Maggie I was sorry,
she licked away my tears as if to say "it's OK, I'm ready"…
Maggie got steak – cooked up just for her – she was a true carnivore – loved her meat…
I am thankful to my sister, Gina, for putting my girl to rest…
I didn't want some strange vet doing it…Maggie loved & trusted Aunt Gina…
It has been a very long and emotional day…then to drive into the yard and no Maggie to come home to…
Empty. I feel very empty.
I know we made the right decision but wow, what a tough day…Maggie went very peacefully..laying in the sun
on her bed she inherited from Dilly after she passed on, enjoying her steak before she became sleepy..
Here's to your life Maggie – what a ride we had…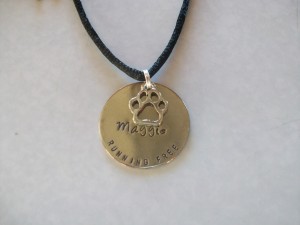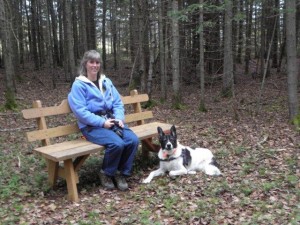 A video of a happy time one month after her amputation – looking so strong!
and this video makes me smile with her "agileness" and her so happy!
her agility career – a highlight to both of us…such GREAT times…
She earned the following titles in agility from 2001-2008:
NADAC titles: NATCH-S, WV-N,TGS-E,O-TNS-E,S-EJS,O-EAS,O-ECS
CPE titles: CL1,CL2-F,CL2-H,CL3-R
and the run the following Spring that finished her NATCH-S
and she did some APDT Rally Obedience as a Tripawd earning:
RL1, RL2, RL3,RLVX2 and
APDT Awards Of Excellence-LV, L1, L2, L3
and she competed in Wag It Games as a Tripawd earning:
WAG2S Heart Dog, WAG2O Heart Dog, WAG1SNIFF Heart Dog
Maggie was the inspiration for the "Heart Dog Program" in Wag It Games!
And of course, it wasn't just about competing – when I watch these, it
makes me really realize how sick and weak she was at the end…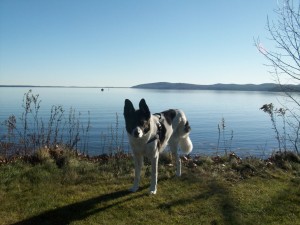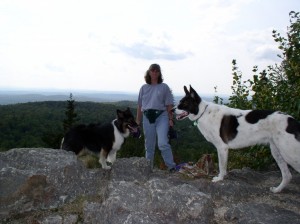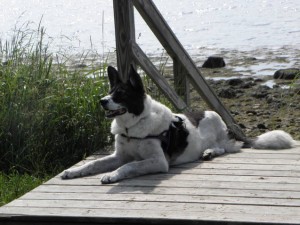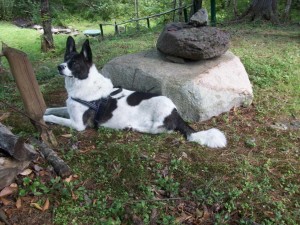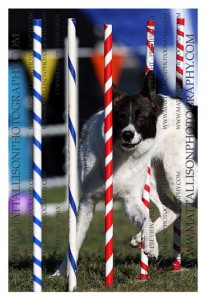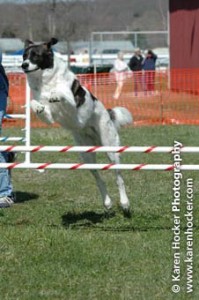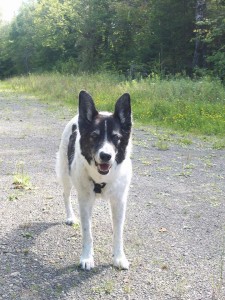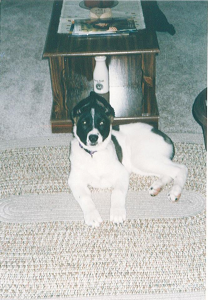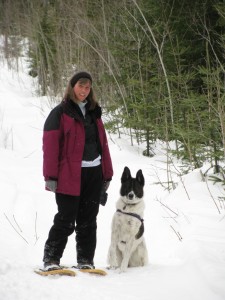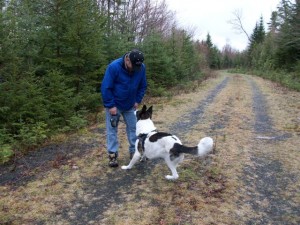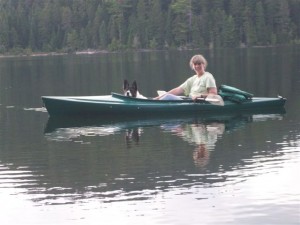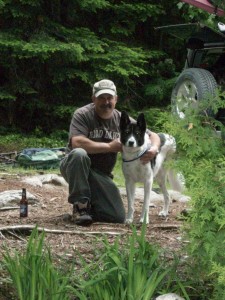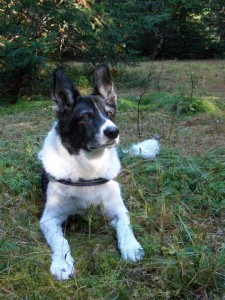 Tried to do a few little "normal" things with Maggie this summer – her Dog Ball training was never finished…
My girl being as strong as she could be with her continued weakness due to the kidney disease…
I will go on, I'll find the strength, life measures quality, not its length. One long embrace before you leave, share one last look, before I grieve. There are others, that much is true, but they be they, and they aren't you.
And I, fair, impartial, or so I thought, will remember well all you've taught.
Your place I'll hold, you will be missed, the coat I stroked, the nose I kissed,. And as you journey to your final rest, take with you this…..I loved you best.
Author Unknown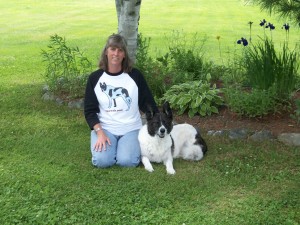 LOVE YOU MAGGIE!!!