Well, it's a lazy & HOT Sunday evening…so Mom is lettin' me blog 🙂
A couple weeks ago after my debut in Rally Obedience, I got some presents in the mail…a High In Trial ribbon and a plaque! Is that cool or what!? Here's a picture of me, Mom and my 'goods'!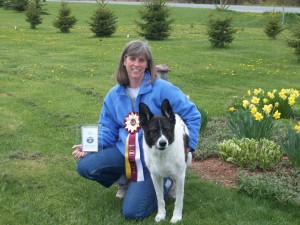 This weekend has been sooooooooooooo hot and soooooooooooooo buggy! You see, we live in Northern Maine and in the Spring after it heats up, these darn little BLACKFLIES come out with a vengeance! Holy CowDog! are they a nuisance! But me, I'm the smart one of the bunch cause I seek out the coolest and least buggy spots around the yard. I was in my doghouse when Mom and little sister, Haley, invaded my space!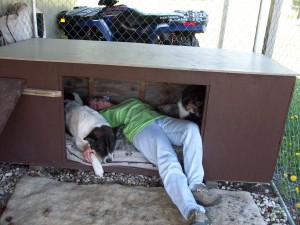 This morning, before it got too darn hot, Mom took me for a walk – we decided to go on an adventure! Only she forgot her camera so no proof other than my story 🙂 I really haven't walked much on the woods trails…Mom has been worried it might be too much for me. Well, as usual, I proved her wrong! The trail was a bit hilly and rough ground but I was a sure footed AgileCowDog that I am! 3 legs or 4 – no matter to me! I did my lovely Tripawd Trot over low trees, through mud holes and up and down small inclines. My Mom was almost in tears again…what is up with her? She made me take frequent breaks and I wanted to just keep goin'! She short cutted the trek though…she's so afraid I'm going to get tired. Well – I proved to her I could handle that short jaunt, so she told me we'll try another woods adventure soon 🙂
That's all from this neck of the woods! Stay cool AND steer clear of those darn blackflies!!!!
Maggie – aka Maggie Three Paws – my new nickname 😉